Doonies Yawn Bouldering is an excellent lower grade bouldering venue. A Perfect venue for your first time outdoor bouldering and also for a quick hit in the afternoon / evening. It helps fill a gap that is somewhat missing in Aberdeen bouldering, convenient lower grade bouldering that's close together and with decent landings. The rock is rough so doesn't suffer from greasy condition too much and its non tidal. The problems are short and the landings are generally fine with a pad or two. With an added bonus of being 10 minutes drive from the city centre and a 5 minute walk in. You could also cycle here about at fast as the drive/walk in, but really you want a pad to flatten out the landing.
It was spied on a "lockdown walk", I was surprised to have never heard of this little spot. It's visible from the coastal path and must be walked past by climbers a fair bit. It has almost certainly seen some sort of passing interest over the years, but nothing had been documented and lines remained unclimbed. So with the lifting of the first lockdown Beth and I rushed down to check it out. We found great problems from f3 to f7a.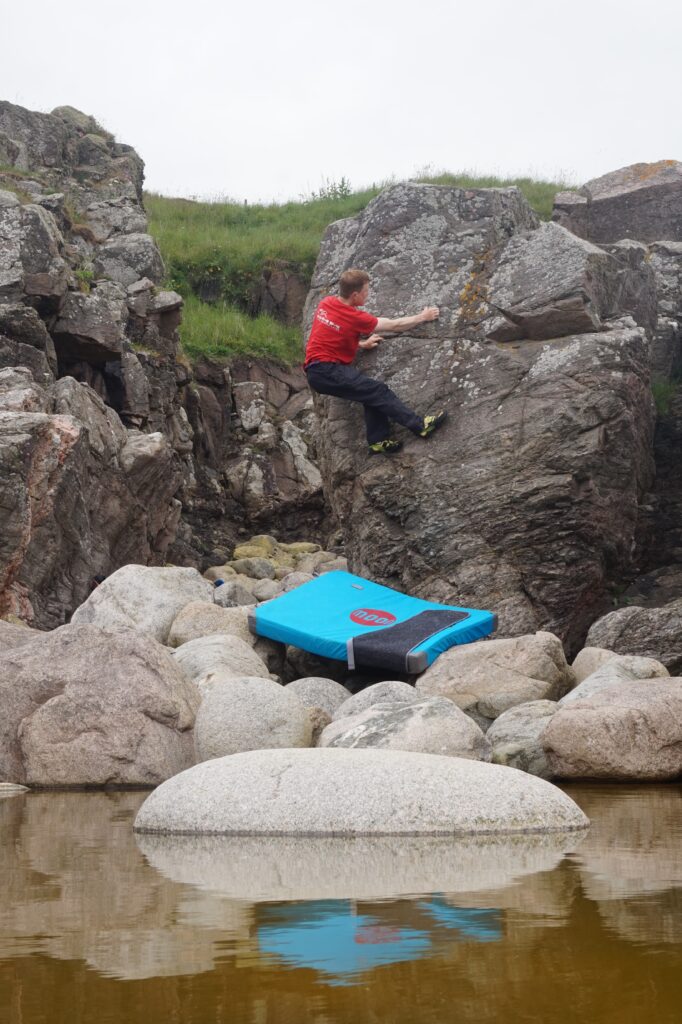 It is a small dry inlet or channel a bit like Dry Covie further south along the coast. Formed when the sea level was higher, and technically a raised beach. Evident by the rounded boulders trapped in the inlet, worn by storms and swells of the past, which also smoothed and rounded the boulder problems too. It is now 5 meters of so from high tide level and unaffected even by the biggest swells.
The problems are techy, due to the lower footholds often being smooth smears or tiny incuts. We have not given anything names but just numbered the problems – Only because some of the problems had been done before and I didn't want to name them.
A full topo can be downloaded below. This will also shortly be available on Scottishbloc.com
A note on the topo. The 6c traverse it seems was a bit of sandbag by me! In repeating it recently it is definitely more like 7a!