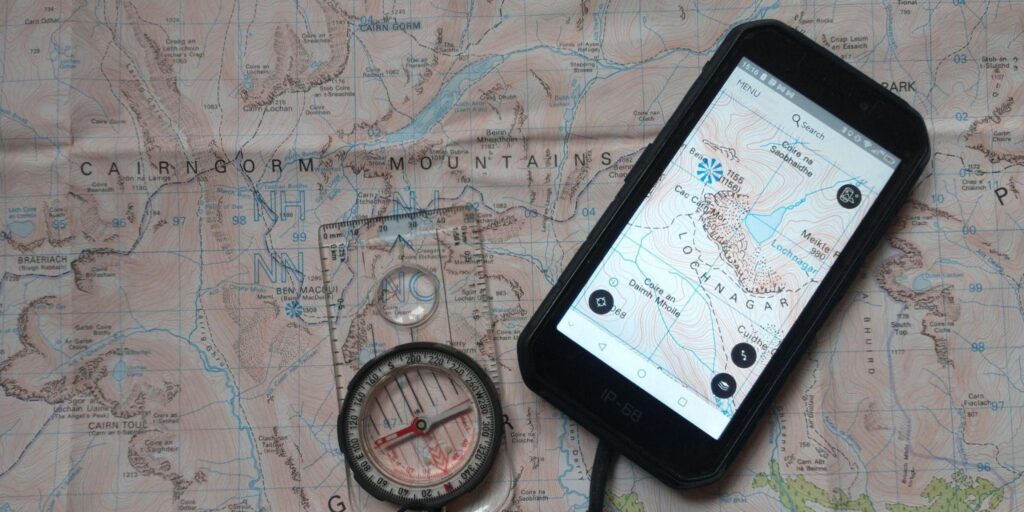 Navigation is all about knowing how to get from A to B when out hillwalking. With so many amazing hills and landscapes to explore in the North-east knowing how to navigate is a must-have skill. Our courses mainly take place around Lochnagar and Braemar with a full range of landscapes, from heather moorland and pine forests, to remote glens and granite topped munros to explore.
About
What does this course cover?

There are a whole range of skills required to move safely in the hills. Depending on a the participants experience level and aims for the day, a navigation course may include:
Basics of navigation: Setting a map, identifying landscape features
Using a compass to take bearings
Understanding contour lines
Micronavigation
Timing and pacing
Navigating off paths
Relocation techniques
Planning: planning a route and assessing the weather and how this may affect a route
Who is this course for?

This course is suitable for any level. Whether you are new to hillwalking, have some skills but want a refresher or are looking to hone those more advanced navigation techniques. Each course will be tailored to the participants and aims to instil confidence and self-sufficiency in navigation.
What kit would I need?

Kit list will vary based on the weather conditions but most days will require:
Sturdy pair of shoes (walking boots, approach shoes/hillwalking shoes)
Waterproof jacket
Waterproof trousers
Warm layers (fleeces)
Hat and gloves
Water bottle
Snacks and a packed lunch
Rucksack
Why choose cove climbing?

Liam of cove climbing has over 8 years of teaching experience in navigation. He is a qualified Mountaineering and Climbing Instructor, a Winter and Summer Mountain Leader and teaches the National Navigation Award Scheme. Liam has climbed all the munros in the Cairngorm, most of them many times over and in all weather conditions. Liam is passionate about being in the hills and teaching others about how to be safe in the mountains so that you can have your own adventures.
How do I book or find out more?
If you have any general questions about a navigation course then feel free to drop me an email at liam@coveclimbing.co.uk.
If you have already decided this is the course for you then great! There are two ways to book. You can either book onto an open navigation course (see below for open course dates). Alternatively you can make a private booking for up to 8 participants.
Open Navigation Courses

Browse our selection of navigation courses available below. If you can't find a date or a course suitable to your requirements please make a private booking. Note on these courses you will be in a group of between 2-8 depending on how many people sign up for the course.
*None currently available please check back soon or make a Private Booking*
Private Navigation Booking Form

Want a day out tailored exactly to your requirements or a private one-to-one or group booking? Get in touch using the form below. The cost for a half day of instruction is £120 and £220 for a full day of instruction.
Availability