Black Spout Buttress is a true mountain route. It starts in the heart of the corrie of Lochnagar, a vast cathedral of rock and intimidating walls that is worth the visit just to see. The route then follows the edge of Black Spout Buttress over looking the gully of Black Spout. The climbing has tricky sections with exposed and airy positions. This route is a step above scrambling but is an easy rock climb achievable to all with the ambition to give it a go a good hill fitness.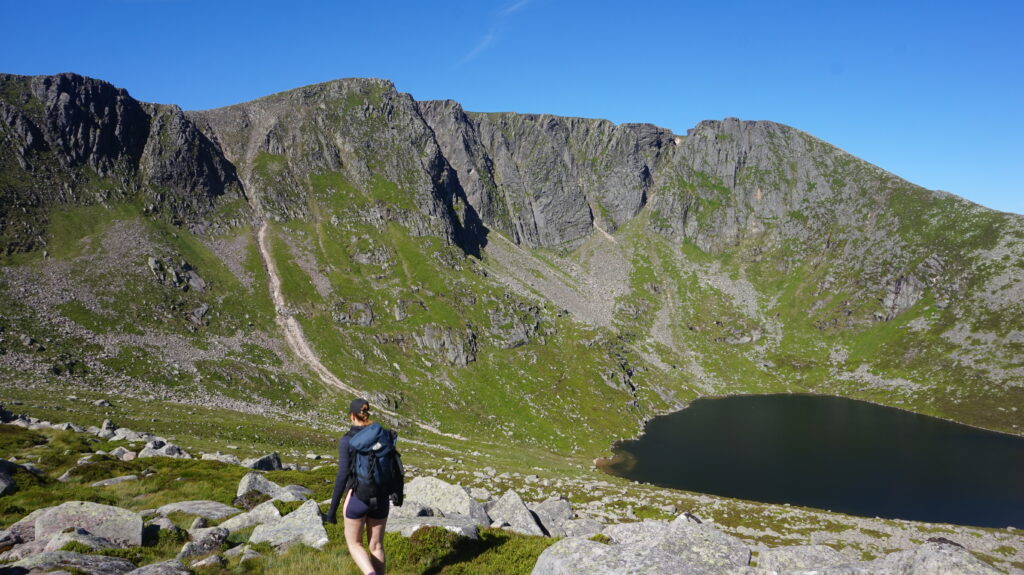 What to expect?
We will meet in the Loch Muick car park and have a chat about the day. We will walk into the corrie of Lochnagar and through the corrie to the base of the climb, which takes around 3 hours. We will kit up with harness, helmets and rope. We will spend about 2-3 hours climbing the route which tops out almost at the summit cairn. A stop for the views and the summit before heading back to the car park which will take about 2 – 2.5 hours. This is makes for a fairly long but excellent day.
The climbing is straight forward, it is very exposed and has airy positions throughout which add to the experience.
<- One of the Upper walls of Black Spout Buttress
Is it for me?
You don't need any experience of rock climbing or scrambling. This route is accessible to all who have good hill fitness, a head for heights, and most importantly are up for an adventure!
If you have been scrambling before, then this is similar to grade 3 scrambling, but with a few trickier sections.
Unsure about whether this is a suitable goal for your day? Just get in touch. I offer a range of other routes in this corrie, both easier and more challenging so I can tailor the day to your experience level and ambition.
<- Looking down from the final wall of the buttress and where we have come from
<- Black Spout Buttress follow the red line. (Picture)
Other details
All safety aspects will be covered by Liam and there will be training and opportunity to learn more about ropes and harness and staying safe whilst climbing in the mountains. Don't worry if you have not used any of the equipment before.
The ratio for the day is 1 instructor to 2 clients.
The Cost is £220 for 1 or 2 clients.
All climbing equipment is provided.
I will do my best to capture picture of your day so you can remember your trip.
What to Bring
Warm layers, gloves, Waterproofs, Boots/Approach shoes, 30/40L rucksack (you will need some extra space for a helmet, harness and possibly a rope), food + a bit spare, water, headtorch (it is good practise to always carry one in the mountains), personal meds / first aid kit, suncream, walking poles (optional).