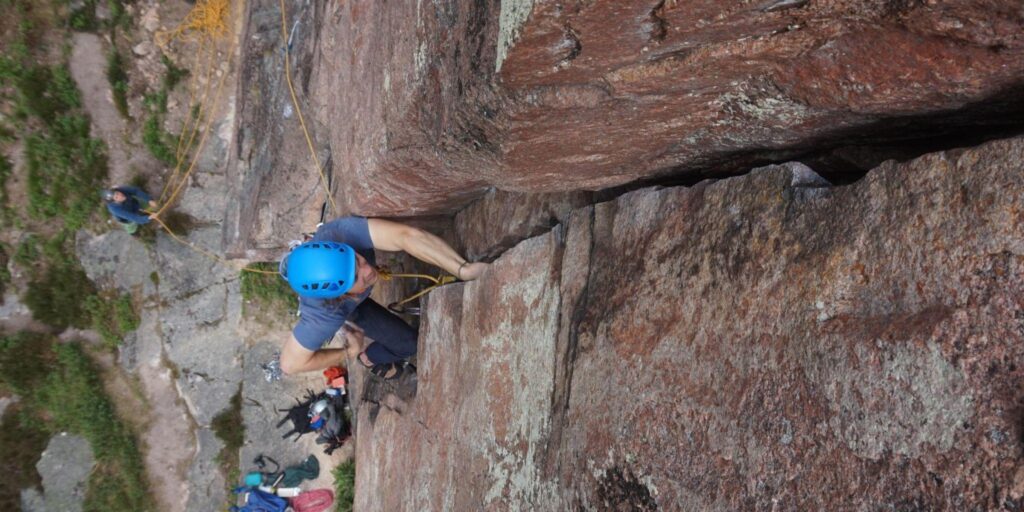 Learn to rock climb outdoors! If you have done some (or lots!) of indoor climbing and are looking to start climbing outdoors then this is the course for you. We will work towards the skills and knowledge to climb outdoors. The skills learnt in these courses will be the stepping stones towards learning to lead climb outdoors and sets a strong foundation of skills in your rock climbing journey. Indoor to outdoor skills courses will take place outside, on the Aberdeenshire sea cliffs, Pass of Ballater or Kirriemuir.
About
What Does this Course Cover?
All skills courses are tailored to the participants experience but can include;
How to second (follow up after) a lead climber
How to place gear and make robust anchors for climbing on
How to set up top and bottom ropes for belaying
Abseiling
Movement skills on rock
How to belay on two half ropes (for seconding trad climbs)
Lower off safely from and rethread an anchor on a sport climb
Best practise using sport climbing bolts and anchors
Belaying a lead climber on an outdoor sport route
And more….
Who is this Course for?
This course is ideal for your indoor climber who wants to start climbing sport or trad outside – it can give you skills to second a lead climber. It is also ideal for those that have done some outdoor climbing but want to learn how to place gear for themselves, build robust anchors that you can belay off or rethread and stay safe on sport climbs.

You should ideally already know how to belay indoors and how to tie in to a rope with a figure of eight knot.
What Kit Do I Need?
Kit list will vary based on the weather conditions and objectives for the day, but most courses will require:
Warm clothes to climb in with spare layers to keep warm
Sturdy shoes (ideally rock climbing shoes but walking boots or trainers can also be used)
Waterproof jacket and trousers
Harness *
Helmet*
Climbing Equipment (Such as Belay device, Carabiner, Slings, etc) *
Snacks and Lunch
* Cove climbing can provide all the items with an asterisk but if you have your own please bring them along too!
Why Choose Cove Climbing?
Liam has been climbing for over ten years and has been qualified and teaching climbing for over eight years. He has worked with a wide range of clients and is experienced in helping develop confident, safe, independent climbers.
Liam is a very experienced climber and has extensive local knowledge having climbed sport grade 8A, bouldered 8A and trad climbed E7 all on local seacliffs.
How do I book or find out more?

If you have any general enquires about our indoor to outdoor skills courses then get in touch with Liam@coveclimbing.co.uk. If you have already decided this is the course for you then great! There are two ways to
book. You can either book onto an open Learn Indoor to Outdoor Climbing course (see below for open course dates). Alternatively you can make a private booking.
Open "Learn Indoor To Outdoor Climbing" Courses

Browse our selection of open courses available below. If you can't find a date or a course suitable to your requirements please make a private booking. Note on these courses you will be in a group of between 2-4.

Private "Learn Indoor to Outdoor Climbing" Booking Form

Want a day out tailored exactly to your requirements, private one-to-one instruction or a private group booking? Get in touch using the form below. The cost for a half day of instruction is £120 and £220 for a full day of instruction.